Killing moss, removing moss and thatch from lawns
Professional Lawn Treatment Plan from £2.77 per Week
Get Quote
Lawn moss and thatch control is a major issue towards the end of winter and into spring;
You may be wondering how to kill moss and how to remove thatch from lawns;
Use a deep penetrating moss treatment to kill lawn moss

Scarify to remove moss but not grass from a lawn

Treat the lawn a second time to kill moss spores and stop moss spreading
Dealing with moss in a lawn isn't difficult but it can be hard work. Watch this video of moss/thatch removal:
How do I deal with lawn moss
So you might be asking…
How do I kill lawn moss
What should I use to kill moss
When should I kill moss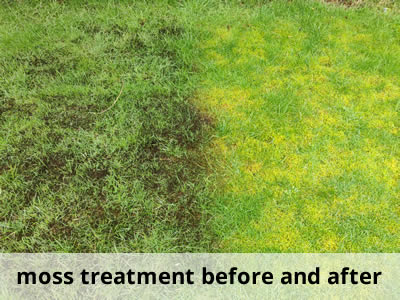 What can you do to reduce moss in your lawn?
A moss free lawn needs you to do the following:
Deal with waterlogged lawns through aeration
Improve shaded lawns by removing overhanging branches
Address lawn nutrition with a professional lawn treatment plan
Treat for moss every year to stop it returning
Maybe you're wondering why more people don't do this;
Well, the answer is simple;
Professional lawn care products are only available to the professionals!
Off-the-shelf products can be OK, but they have the following considerations;
4 problems with treating your own lawn;
Shop bought lawn care products are relatively expensive
Lawn treatments can be difficult to use
Knowing how much product to use can be a challenge
It's easy to get it wrong
So how do you get rid of moss in lawns?
Follow these simple steps;
Identify the reasons for your mossy lawn
Treat moss with a liquid moss-killer and wetting agent to aid penetration
Remove dead moss but not grass by raking, or scarify larger lawns – it's hard work
Re-seed bare lawn areas
Consider the best time of year to weed and feed a lawn
Improve lawn drainage and shade issues
Apply preventative moss treatments annually
Want to know the best part?
Save yourself time and money on lawn care;
It's more cost effective to pay a lawn care professional and achieve the best results than to do it yourself!