Professional Lawn Treatment Plan from £2.77 per Week
Get Quote
If you are anything like me you'll realise that these are some of the toughest lawn problems to fix
So what are the 3 main symptoms of a compacted lawn?
Compaction eliminates air pockets from the lawn limiting air-flow to roots

Drainage issues result in a waterlogged lawn and plants die in these conditions

Compacted lawns are colder for longer. Plants become stresses and more susceptible to disease
Leave these issues unresolved and you are asking for major lawn problems
You may want to know;
What can I do to reduce lawn compaction?
How do I aerate a lawn?
Will top-dressing help lawn compaction?
How can I stop my lawn being so wet?
How do I improve a compacted lawn?
You can make a huge difference by focusing on these 4 lawn care techniques
Avoid walking on wet lawns
If you have to walk on lawns avoid the same routes – move washing lines around if you can
Improve drainage with hollow-tine aeration
Add a sandy loam top-dressing to improve soil condition and aid drainage
If you're wondering how much time this will take;
Here's the tough part
Creating and maintaining a great looking and healthy lawn may take longer than you think!
3 reasons why aeration is a challenge
Creating drainage holes with a garden fork can be soul destroying work
Specialist aeration equipment is expensive and difficult to use
On heavy soils such as clay, aeration needs to be done regularly to be effective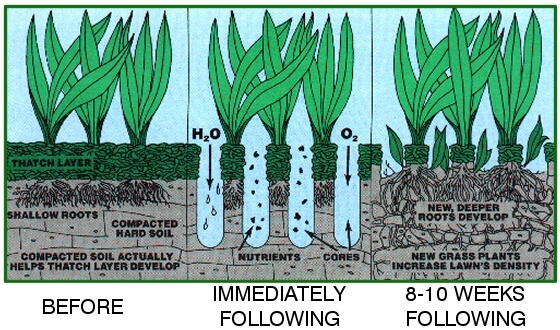 Perhaps you want to know how the professionals deal with a waterlogged or compacted lawn?
Aerate the lawn regularly to aid drainage and promote healthy growth
Top-dress immediately following aeration to improve soil structure
Ensure the right grass seed is selected for dame conditions
Where possible re-route regular foot traffic to give the lawn time to recover
So, what's the shortcut?
There is no shortcut to dealing with a compacted/waterlogged lawn;
Use a professional lawn maintenance company to carry out the difficult jobs, then sit back and enjoy your beautiful lawn!