A lot is said about the importance of lawn scarification as part of a regular lawncare regime. Let's take a look at why this is so important and how to get it right.
What is scarification
In simple terms it is raking the surface of the lawn, vigorously. If the lawn area is relatively small, this can be carried out with a spring-tine rake. However, it's worth realising in advance that this can be hard work. If you are attempting it with a rake, take it slowly, one small area at a time. And be prepared for blisters!
For larger lawn areas, or lawns that are very mossy or thatched and need more intense work, a rake is simply not going to cut the mustard. In these cases, a powered scarifier is required. We meet many homeowners who have what they refer to as a scarifier. Usually what they have is an electric power-rake. The difference is really in the ability of the machine, and the way they rake the surface of the lawn. An electric power-rake usually has spring tines that spin. A professional scarifier will have either fixed or flexible blades which will cope with more challenging conditions.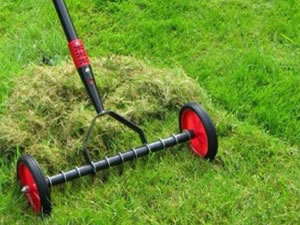 Why does your lawn need to be scarified?
There are a number of reasons that a lawn needs this type of work. Firstly, it's worth saying that even lawns in great condition will benefit from annual scarification.
Lawns can be made up of many different varieties of grass. Some grass types tend to shed more dead leaves. Some send out runners across the surface of the lawn, which over time can create a mat of organic matter that can create thatch issues. Surface lawn thatch can prevent moisture, nutrients, and air from reaching the roots of your lawn. In addition, thatch can harbour the pathogens that cause red-thread and fusarium patch. These common lawn diseases are unsightly and controlling thatch can reduce that problem. For this reason, annual scarification should make up part of your lawn management plan. If a lawn already has a thatch issue, then intensive scarification, along with work to boost the soil biology will break this down, and in doing so release organic nutrition into the soil.
For lawns that have deteriorated to the point where they need renovation work, scarification is an integral part of that process.
Many lawns will suffer from issues of moss build up. If not dealt with this moss can begin to take over the lawn, smothering out grass that struggles to compete. Moss may be soft to walk on and green in winter, but it soon dries out, leaving a brown lawn over summer months. In addition, certain grass pests prefer mossy lawns. If left unaddressed, moss can be a serious lawn problem.
In these instances, a petrol-powered, professional lawn scarifier is needed to remove the moss. After the moss has been removed it is essential to treat the area to kill any remaining moss or spores. This is also an ideal time to over-seed the lawn. Newer grass varieties are greener, deeper rooted, harder wearing, more drought and disease tolerant and faster to establish. If your existing lawn is looking bare or tired, then seeding after scarification is the way to go.
Regular lawn treatments to provide the correct nutrition for your grass, feed soil microbial activity to break down organic matter and prevent the build-up of thatch and to treat and kill moss over the winter will help create a lawn you can be proud of.
When to scarify a lawn
Typically, this type of work should be carried out in the early spring or autumn depending on the weather and soil conditions. Lawns that tend to become mossy over winter are better to scarify in the spring – removing that moss build-up and preparing the lawn to be at its best over the warmer months to follow. But be careful. Larger lawns, where there is not the option to irrigate, scarified too late in the spring, as we move into warmer, drier weather, may take longer to recover.
Now is the time to be thinking about how you want your lawn to look this year. Maintaining a great lawn can be more complicated than many people appreciate. If you need the help of a professional, please get in touch